So far in this introduction to DNA for genealogy we've looked at what autosomal DNA is and how we use it in genealogical research, and we've looked at the very important issue of potentially unexpected results and the ethical considerations flowing from that. It was essential to cover the latter two issues before progressing to today's topic: asking our nearest and dearest if they would be prepared to take a DNA test to help with our research.
A quick review of how we use autosomal DNA for genealogy
As previously discussed, the point of establishing how much of your autosomal DNA you share with a second cousin, fourth cousin, third cousin once removed, etc is not the joy of knowing how much DNA you share with this former stranger.  The point is that by finding someone you match at this estimated level you are being guided to the number of generations you need to go back to find your Most Recent Common Ancestor (MRCA). If the amount of shared autosomal DNA, expressed as 'centiMorgans' (cM) suggests you are roughly 3rd cousins, then you would expect to find your MRCA at roughly great great grandparent level.  As mentioned in previous posts, it may be one generation closer or one generation further back, but it will be thereabouts.  Armed with that information, you look at both your family trees to locate the common ancestor.  Then, having found your MRCA, and ensured all research is correct to that point on both trees:
you know your tree is correct to that point
you know you have a biological link to these ancestors (there are no events which would cause a break in the biological link)
should you come across another DNA cousin who matches the two of you, you have a pretty good idea where to look for this new match.
It isn't always as straightforward as this.  You or your new cousins might not have got as far back as that in your tree building.  As mentioned in my previous post on unexpected results, one of you might have no tree at all, as a result of adoption or unknown paternity.  There are also other issues that might complicate this which I'll cover in a later post.  But for now, at this introductory level, we'll stick with a basic scenario with everything going smoothly.  The important point is that, knowing where you and your new cousins share common ancestry, you can start to allocate them to a particular branch of your tree, and work on the basis that other testers who also match the three of you will also link to you on that branch.  Bearing in mind that we each have sixteen great great grandparents and 32 GGG grandparents, this will save you a lot of unneccesary work.
Why would we ask another family member to test?
When we ask a specific, known family member to test, we use their results in the same way: It helps us to sort more distant common matches into specific lines on our own tree.  However, since these are our close family members, and since every one of them will have inherited some DNA from our common ancestors that we didn't, their test results will extend our 'reach'.  Exactly how they will do this depends on their precise relationship to us.
Essentially the rule is:
Your direct line (parents, grandparents, etc) will produce stronger, better, DNA matches but limiting to an increasingly specific part of your tree with each older generation.
Your own siblings will have inherited much of the same DNA as you, but also a lot of different DNA.  Although their results will be of no use at all in guiding you to a specific part of your tree (because you have the same parents, grandparents, etc), the parts of their DNA you didn't inherit will effectively provide you with more DNA matches.
Sibling of previous generations (your mother's brother, your grandfather's sister, etc) will combine the benefits of the first two categories, but the results will be a bit weaker than testing your direct line – which of course is often no longer possible.
Let's look at each type of relationship in more detail.
Sibling
If you have one or more full siblings, you know that all of your DNA and all of their DNA comes from the same two people: your mother and father.  However although like you, your sibling will have received half their DNA from your mother and half from your father, unless you are identical twins they will not have received exactly the same DNA as you did.  (Key point: don't bother asking your identical twin to test)
I can illustrate all this with reference to my own brother.
In my first post about autosomal DNA we looked at the Shared centiMorgan Project.  Click the image below to see it full size on Blaine T Bettinger's website.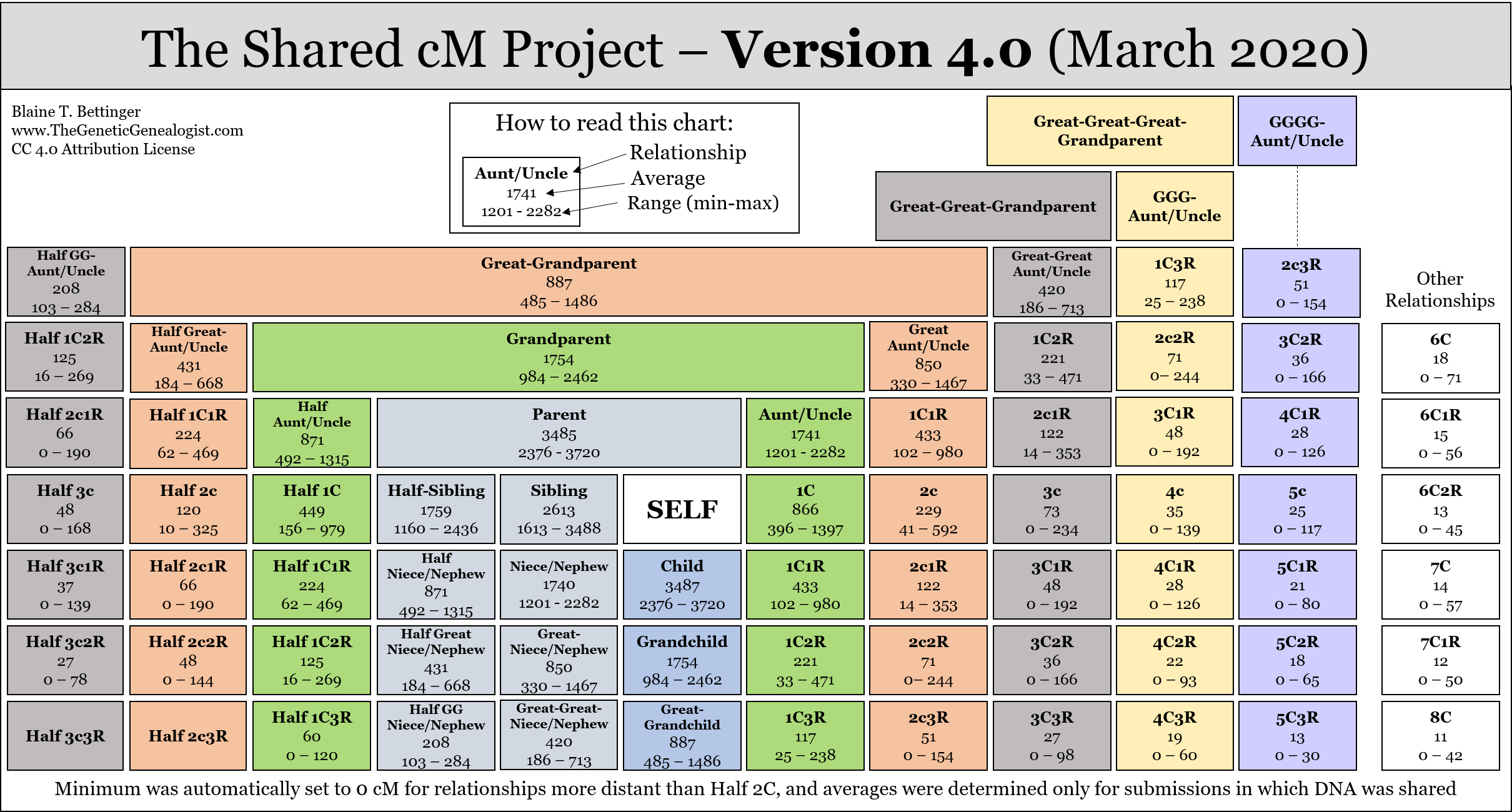 This shows that the average shared DNA with a full sibling is 2613cM, but it could be anything between 1613 and 3488.  My brother and I share 2616cM.  This is what proves we are full siblings.  What interests me, though, is all the bits of his DNA that I don't share: they are the reason I asked him to take a test.  Since we are clearly full siblings, anyone who shares DNA with him is also my blood relative even if we haven't inherited any of the same DNA.  Therefore I can use my brother's DNA results and the trees of his matches as an extension of my own, to confirm and develop my own tree.  Their Most Recent Common Ancestors are my Most Recent Common Ancestors too.  It's just that we haven't inherited the same DNA from those ancestors.
If this is new to you you'll be surprised at how many people can share a decent amount of DNA with one sibling and none at all with another.  After each other, the top matches for both my brother and me on Ancestry are:
A with whom I share 189cM but my brother shares only 102cM
B with whom I share 144cM but my brother shares 153cM
After them our next highest matches are completely different.
C with whom I share 51cM doesn't show as a match to my brother.  In fact C is our 4th cousin two times over – we share two sets of 3xG grandparents.
Looking at our matches on MyHeritage, four of my brother's top ten matches (all of them cM matches in the 50s) do not match me at all.
You can see how my brother's results give me more information and more clues about my own ancestry.  If you have more than one sibling and they are all happy to take a DNA test to help with your research, so much the better!
*****
While full siblings give you extra 'horizontal' reach, every other close family member will help you in a different way: they help narrow down to one part of your tree where you and any DNA cousin you share actually match.  Siblings won't do this because in terms of your direct lineage, everything is identical.
Parent
There are two advantages to having a parent's DNA results:
First, since we inherit 50% of our DNA from each parent, it follows that we have only 50% of the DNA of each one.  This means that your parents' DNA is closer to previous generations and will include the other 50% that didn't pass to you.  You might show as a second cousin once removed to a match but your parent will be a full second cousin.  Because of all this, they will have more and better matches, with more shared centiMorgans.  As an example, one of my DNA cousins currently has 321 matches on Ancestry at 4th cousin or closer, whereas her mother has 511.  If her father were also still alive and willing to test, and supposing he had a similar number of matches, that would effectively transform their daughter's 321 matches into about 1000 better ones.
Second, even if only one parent tests this will help you to narrow down any future match by 50%.  If you have your mother's test results and your new DNA cousin doesn't match your mother then your shared common ancestors are on your father's side.  This will help save you a lot of time searching for your connection.
Grandparent
If you're lucky enough to have a grandparent who is able and willing to take a DNA test for you the same applies as for your parents.  Not only will their results narrow down any matches to a specific quarter of your tree, but their DNA will be even closer to previous generations.  You may match another tester at fourth cousin level, but your grandparent will be a second cousin twice removed – a much stronger and clearer DNA match.
Key point: it always makes sense to test the oldest generation
Aunt or uncle
If you're able to test a sibling of either parent this will enable you to narrow down any shared matches to one side of your tree or the other, just as your own parent's test results would.  However, bearing in mind that siblings don't inherit exactly the same DNA, your aunt or uncle would also extend the reach of your parent's results horizontally, in the same way that your own sibling would for you.
Your aunt or uncle who is the half-sibling of your parent
This will have the same effect as a grandparent.  Since only one of your grandparents is the parent of your half-aunt or half-uncle, anyone matching the two of you has to be from that specific grandparent's line.  However, for reasons outlined above, if you had the option to test your half-aunt/uncle or the actual grandparent who is that person's parent, you should choose the grandparent.  This would provide the same information to help you narrow down matches to a specific quarter of your tree, but their match would be closer to past generations and therefore better.
Half sibling 
Your own half sibling's test results will help in the same way as your shared parent's results.  They will help you to narrow down a match to either your maternal or your paternal line.  However, for reasons outlined above, if a parent is still available and willing to test, their results will be better for you.
Cousin
Your cousin, being the child of your parent's full sibling, will help you to narrow down shared matches to one side of your tree. On the one hand, your own parent will give you better information.  On the other hand, since your cousin's parent's DNA will not be identical to your own parent's, they might extend your reach horizontally on this line, just as your own sibling would.  Even better, though, to test your actual aunt or uncle.
Slightly more distant relations, e.g. second cousin
In reality, unless you have a very close extended family, you are unlikely to pay for your second cousin to take a DNA test.  However, they might have tested of their own volition, and in the absence of any of the above family members, a second cousin's results can be very helpful in narrowing a match down to a specific quarter of your tree.  You and they are the great grandchildren of the same couple, therefore any other tester who matches the two of you will probably be further back along that same line. 

Key point: Your own son or daughter's test results will not help you
Your own child's test results will not add anything to your DNA research, since they have inherited only 50% of your DNA and are obviously one generation further removed from all your ancestors.  On the other hand if they are interested in their ancestry, your own test results will help them to narrow down to one or other side of their tree, just as your own parents would help you.
*****
If all this was new to you I hope, by now, you have a basic understanding of how DNA testing can enhance your family research.  If you're interested in taking a test, my next post will provide an overview of the five main testing companies.  After that, there will be more to say, but we'll take a break from DNA for a while.
*****
Edited August 2020
My posts about DNA are aimed at complete beginners and aim to provide information in manageable chunks, each post building on previous ones. Click [here] to read all of them in order, or to dip in and out as you wish. You'll also find lots of resources and useful links