Last September I wrote about deep ancestral DNA testing using Y-chromosomal and mitochondrial tests.  I said back then that I would write more about my experience of using DNA testing alongside traditional documentary research to develop my family tree.
Today I'm going to introduce the topic of autosomal DNA, including inheritance patterns and an overview of how we can use autosomal DNA testing in our family research.  The following four posts will look at:
unexpected results;
ethical issues, particularly flowing from unexpected results;
the benefits of asking certain other close family members to test for you;
different testing companies.
There's a lot to say and if this is new to you it will seem complicated – it certainly did for me when I first started.  I found the best way to learn was to read to understand the basics, and then just do it!  So I'll do my best to introduce it all in small chunks.  And alongside my own discussion of the topic, and my own experiences, I'll offer links to websites, books and other resources. There are several online groups, including on Facebook, where you can ask questions if you're stuck, and people are helpful.  After the initial introduction of some key points over the next few posts I'll move back to other family history topics, interspersing with more DNA posts from time to time.  I do appreciate that this won't interest everyone, but it's a growing and important part of genealogical research these days.
Autosomal DNA
The DNA tests we see advertised for genealogists use a different type of DNA from the two types I wrote about in that previous post.  What they test is autosomal DNA (atDNA).  This comprises the twenty-two pairs of non-sex chromosomes within the nucleus of every cell.  There is also an additional pair of chromosomes within the nucleus, which are the sex chromosomes.  Females inherit one X chromosome from their mother and one from their father.  Males inherit just the one X chromosome from their mother and the Y chromosome from their father.  As we have seen, the Y chromosomal DNA requires a completely different test.  However, some atDNA tests do include testing of the X chromosome, and this can give additional information to help us to understand which of our lines to focus on when we have a match, but for now I'm focusing on the non-sex, autosomal chromosomes.
Building on what we covered in my previous DNA post, autosomal DNA differs from mitochondrial and Y-chromosomal DNA in the following ways:
Mitochondrial DNA is inherited by all babies from their mother but only her daughters pass it on.  Boys, therefore, receive this DNA but do not pass it on to their children.  Y-chromosomal DNA is passed on from the father only to his sons.  Daughters do not receive it at all.  By comparison, atDNA is passed on to every child.  There are no differences whatsoever based on the child's sex.
Mitochondrial and Y-chromosomal DNA mutate (change) very, very slowly.  They are passed on largely unchanged.  This means that our mitochondrial DNA (and for males, Y DNA) can connect us to specific ancestors and their kin who lived many thousands of years ago, perhaps in the Middle East, perhaps in Africa.  By contrast, the atDNA changes with every successive generation.  I'll say more about this below, since this is at the heart of how we use it in our genealogy research, but for now, just note it as a contrasting feature with these two other DNA types.
The operation of mitochondrial and Y-chromosomal DNA, passing largely unchanged from parent to child, means that when we follow it backwards we follow just one line: your mitochondrial DNA has passed to you from your mother, to her from her mother, to her from her mother, and so on, back through time.  The Y DNA has worked in the same way, from father to male child, right back through time.  Those types of DNA, then, can take us on a journey up a very narrow and specific part of our family tree: your mother, your maternal grandmother, just one of your 8 great grandparents, just one of your 16 great grandparents, just one of your 32 GGG grandparents, and so on.  (And the same for Y DNA for male inheritance.)  By contrast, autosomal testing provides a 360-degree coverage of all your atDNA inherited from all of your lines.  There is no difference for children of different sexes.
Experts tell us that at the present time atDNA testing is accurate only for five or so generations.  I have found connections further back than that which fit with the smaller amount of DNA and with my documented family tree, and that's good enough for my purposes, but the experts say five generations or so.
Autosomal DNA inheritance
I said above that our autosomal DNA comprises twenty-two pairs of chromosomes.  One chromosome from each pair is inherited from our mother, the other from our father.  This means that we get half our autosomal DNA from our mother and half from our father.  Obviously, each of our parents also inherits half of their autosomal DNA from their mother and the other half from their father, and so on, back through time.
This might suggest that the inheritance of atDNA is very tidy, with progressively smaller, exact fractions from each of our ancestors: half from each parent, a quarter from each grandparent, an eighth from each great grandparent and so on.  But that is not the case.  The atDNA we receive from each parent will not be an exact 50-50% split of what they received from each of their parents.  On the other hand it isn't entirely random either: there are parameters.
When we talk about amounts of atDNA we don't usually refer to it in percentages.  There is a unit of measurement: the centiMorgan (cM).  One of the authorities on DNA testing for genetic genealogy is Blaine T. Bettinger.  Since around 2015 he has been investigating these parameters for centiMorgan inheritance through a research project known as the Shared CentiMorgan Project. It is the go-to document for calculating likely relationships based on DNA.  As I write this, his published results (Version 4) are up to date as of March 2020.  Click the following chart to see it full screen on Blaine's own website.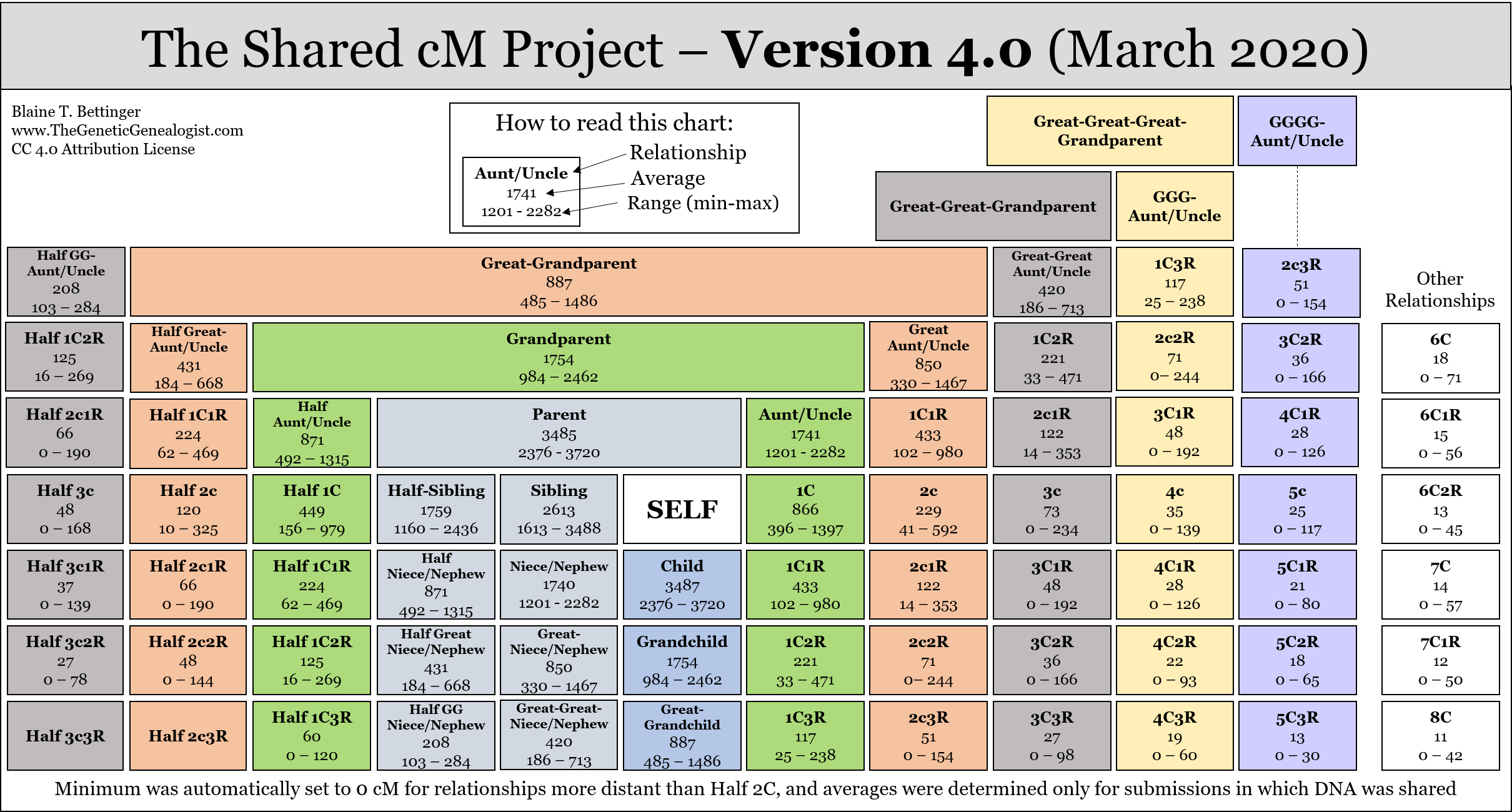 These findings are based on submissions from almost 60,000 people who have tested their own autosomal DNA and have known and documented relationships with other testers who share some of their DNA.  Locate yourself at SELF on the chart, and from there look around the wide range of relationships with whom you might share atDNA.  You'll see, for example, that the average amount of atDNA you share with a parent is 3483cM, but based on real test results from these 60,000 participants it could be as low as 2376 or as high as 3720cM.  The average you'll share with a full sibling is 2613cM but it could be as low as 1613 and as high as 3488cM.  The average shared DNA with a great grandparent will be 887cM but it could be as low as 485 or as high as 1486cM.  Looking further afield, the average amount shared with your 4th cousin is 35cM but it could be as low as zero or as high as 139cM.
How can we use this information to develop our family trees?
By now you may be thinking:
'Why on earth would I want to know how much DNA I share with a 4th cousin?'
Or 'My great grandparents are long dead.  I couldn't access their DNA even if I wanted to.'
Or even 'Yes, very nice.  And this has what, exactly, to do with developing my family tree?'
When we take a DNA for genealogy test and agree for the results to be included in a pool of testers we will be able to see which of the other testers share DNA with us.  Depending on which testing company you use, you will be told the name (or pseudonym) of your match; the amount of shared DNA in centiMorgans; the likely relationship you have with that person (based on the amount of shared cM); and you may possibly have information regarding the exact shared segments plus access to the other person's tree.  You will also be able to see other testers who match both yourself and that other person.  The results are never displayed in a way that enables another person to see private information about your DNA, simply that you match with them at specific segments.
If my atDNA and another person's atDNA is exactly the same at one or more places (segments) throughout the twenty-two chromosomes, then that means we have both inherited that part of our DNA from common ancestors.  The higher the amount of DNA we share (the centiMorgans), the closer our relationship is.  If, based on the shared cM, our suggested relationship is around 4th cousin, then we will be looking for a Most Recent Common Ancestor (MRCA) at around 3xG grandparent level.  We now shift to looking at our trees.  Assuming we have both done accurate research, if we both have the same ancestor named as 3xG grandparent (or thereabouts, e.g. it could be my 3xG grandparent and the other person's 4xG grandparent) then we have found our match.  Based on this we now have the following:
a further piece of evidence that our documentary research is correct;
proof that there were no adoptions or unexpected paternity events along the way;
a new cousin who shares our interest in family history and DNA.  From here on, if you're minded to, you might be able to share research and new discoveries (I have become great friends with some of my 'new' cousins, while for others the connection has been more focused and businesslike);
and something else that I think is rather wonderful: you now know that this little piece of you has come down through several generations, unchanged, from an ancestor whose name you have and whose life you have been researching.
Of course, it doesn't always go as smoothly as that.  Your match might not have a tree – I have often taken what little information they have and worked their tree back to find our shared ancestor: the MRCA.  Your match might not even know who their parents are: I have now used DNA to help one person find their biological father and another to find a missing grandfather.  On the other hand, it may be that your match's tree is more advanced than yours, and that this DNA connection will help you break through a brick wall and take your tree back a generation or two further.  But we can't do any of this without other testers: our distant cousins living now, who have also tested and whose test results combined with our own are the key to unlocking information about our shared ancestral lines.
Find out more
Blaine's excellent book, The Family Tree Guide to DNA Testing and Genetic Genealogy was my starting point in getting to grips with how this all worked.
You can read more about the Shared cM Project [here]
And download a PDF with (a LOT!) more information [here]
His website is perhaps of more use if you're already familiar with DNA for genealogy and are looking for more information about specifics.
His YouTube channel is [here]
Edited August 2020
My posts about DNA are aimed at complete beginners and aim to provide information in manageable chunks, each post building on previous ones.  Click [here] to read all of them in order, or to dip in and out as you wish.  You'll also find lots of resources and useful links